New tomato «SPELO-ZRELO» - sauces and ketchups
This year, «Diamond» Holding is expanding its «SPELO-ZRELO» product assortment with a new line of SAUCES and KETCHUPS.
«SPELO-ZRELO» ketchups are an elegant combination of selected rich tomatoes from the Russian South and are flavored with condiments and spices. The company presents a rich choice with 5 traditional tastes to its Russian customers who love it, and the shelves of the supermarkets are already decorated with the tempting design of «Cheese», «Barbeque», «Tomato», «Spiced» and «Grill-barbeque» ketchups.
«SPELO-ZRELO» ketchups can make any dish attractive and help household wives to save time while cooking. In addition to this, it was found out that ketchups are healthy. One of its specific advantages is that it helps to get over a bad mood, since tomatoes contain the happiness hormone – serotonin. Moreover, ketchups contain another healthy element – lycopene pigment which is helpful in preventing cardiovascular and cancerous diseases.
The assortment of Russian food product manufacturer «Diamond» Holding is also expanded with 6 gourmet tastes of «SPELO-ZRELO» sauces in glass bottles - Tkemali classic, Tkemali handmade, Tatarian with pickles, Abkhazian Adjika sauce, Satsebeli sauce and Georgian with greenery.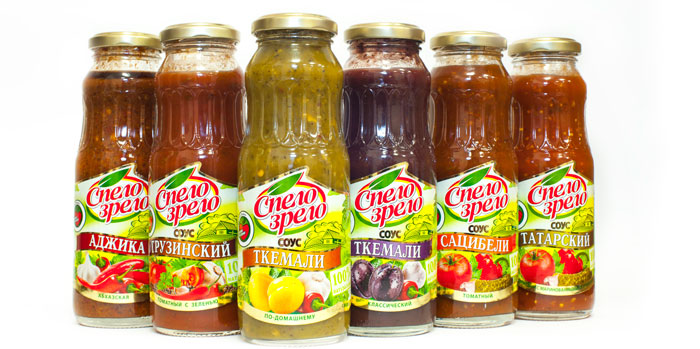 Each of the represented «SPELO-ZRELO» sauces is a masterpiece of the original recipe, since the creation of the very same original flavor is the secret art of Caucasus's cookery specialty that is carried over as a secret recipe from one generation to the other in every family. Each sauce has its own uniqueness.
For example, the gorgeous taste of the classic tkemali sauce is attained with the composition of a dark plum with basil and nutmeg. The individuality of the handmade tkemali in the yellow cherry plum and a special seasoning bouquet.
The secret of the «Abkhazian Adjika» sauce is in the addition of special spices for zest which is a rare mountain plant with blue melilot and coriander. You can find more details about the secret recipes of the other sauces on the official brand website.
 «SPELO-ZRELO». From the Russian South!