We remember! We are proud of you! Diamond Holding congratulates veterans
Denis Aldoshin presenting a gift to Major Efim Titorenko
During Russian May holidays in the Moscow Veterans Association Center, Diamond Holding together with the editorial office of social and political magazine of the Federal Assembly and Parliament of Russian Federation "Russia today" solemnly congratulated the veterans of the Russian Long-range aviation – the heroes of the Great Patriotic War on Victory Day. 
The Commercial Director of Diamond Holding Denis Aldoshin on behalf of the whole company expressed gratitude to the veterans: 
"I believe it's almost impossible to find exact words to express gratitude of all the Russians for the chance to be born under peaceful skies. Peaceful because of you and your courage. We remember what you have done for us and respect every fallen soldier. Accept our compliments, we wish you strong health and longevity!" 
Handing big baskets with tasty and healthy products of our own brands to the veterans of Great Patriotic War became an honorable tradition for Diamond Holding. Our project "The 1941-1945. Stories of eyewitnesses" associated with the 70th anniversary of the Great Victory became the Best Social project of the year! But this is not the reason to stop; we should be in time to note down the stories of rebels and bush fighters, captains and soldiers. Unfortunately, few of these persons remain with us each year. They are gone to eternity, and we should know and remember, what the colossal price of our Victory is. 
Each veteran has his own story, but everyone who assembled that day under one roof was united with an enormous love for the sky and aviation. 
The Aviation Colonel General, the Hero of the Soviet Union, the commander of the Long-Range bomber aircraft Vasiliy Reshetnikov made 307 operational missions. 
Soviet and Russian public figure, journalist, the head of the united editorial magazine office "Moscow news" (1960-1980) Yakov Lomko, during the war, had a very rare qualification of a meteorologist "weather forecaster". I wish nowadays in peaceful times, we would have such a good specialists! Who knows, maybe then we could trust weather forecasts!
The regiment of the colonel Vilen Konstantinov had foreign planes in the inventory – how hard it was for the technicians to make translations of technical documentations without the knowledge of any foreign languages.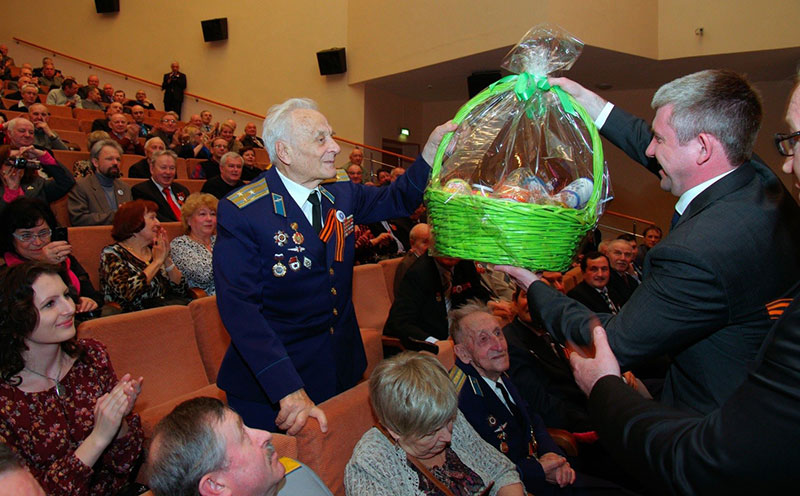 Denis Aldoshin presenting a gift on Victory day to Colonel Vilen Konstantinov. 
Major Efim Titorenko rolled up the enemies at the far bomber wing #444 on the Komsomolsk on Amur.
Colonel Evgeniy Malofeev, who was called up for military service at the age of 17 in 1941 is one of the first developers of theoretical basis of tactics and strategic rocket forces.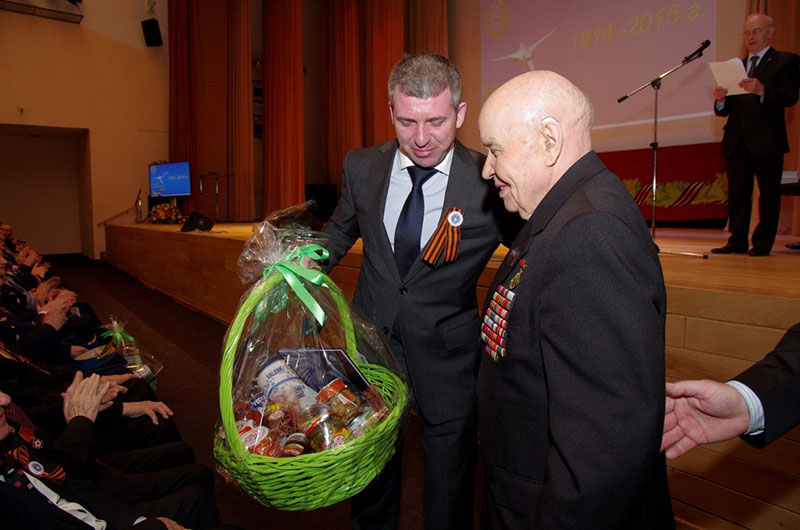 Denis Aldoshin presenting a gift to Colonel Evgeniy Malofeev 
On behalf of all the employees of the Diamond Holding from the bottom of our hearts we congratulate you on the Great Victory day! We are proud that we live at one time with you and will always remember your heroic deeds!