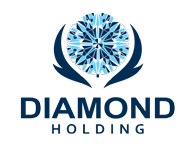 Diamond Holding is a rapidly and successfully developing ambitious group of companies — a promising player in the food industry and alcohol market.
The main activities of the holding company today are the creation, production and sale of:
only our own brands and registered trademarks.
The holding's product portfolio is constantly expanding and is designed for both an average income consumer and a discerning customer with high income. Today, our products are already known and loved in all 83 regions of the Russian Federation, CIS countries, Mongolia and Israel, and we are actively moving forward.
Every day our employees of the sales department travel thousands of kilometers across the country, from Kaliningrad to Kamchatka, to present our brands, new items, give presentations, talk about our ideas, quality, and innovation and bring more new distributors and partners to the promotion of our favorite products.
We want to excite everyone with our emotions and inspire them with our ideas. We want to see the products of our brands on the table of every family that thinks about their health, values the quality of products, loves good food and good drinks, and wants to get aesthetic pleasure in everyday life.
  TODAY DIAMOND HOLDING REPRESENTS…

8 well-known Russian brands and 5 registered trademarks.
Wide distribution network.
Representation of brands and private labels in more than 60 000 trade enterprises from Kaliningrad to Kamchatka.
More than 100 highly skilled employees, many of whom hold academic and MBA degrees.
More than 6 000 м²  of storage space and over 1 000 м² of office space in property.
More than 30 reliable suppliers in Russia and abroad.
More than 500 loyal customers and partners, including federal and regional networks.
According to market experts every 4th person in Russia has tried the products of our holding company.

Watch DIAMOND Holding presentation