Diamond Holding is the most attractive employer of the year 2013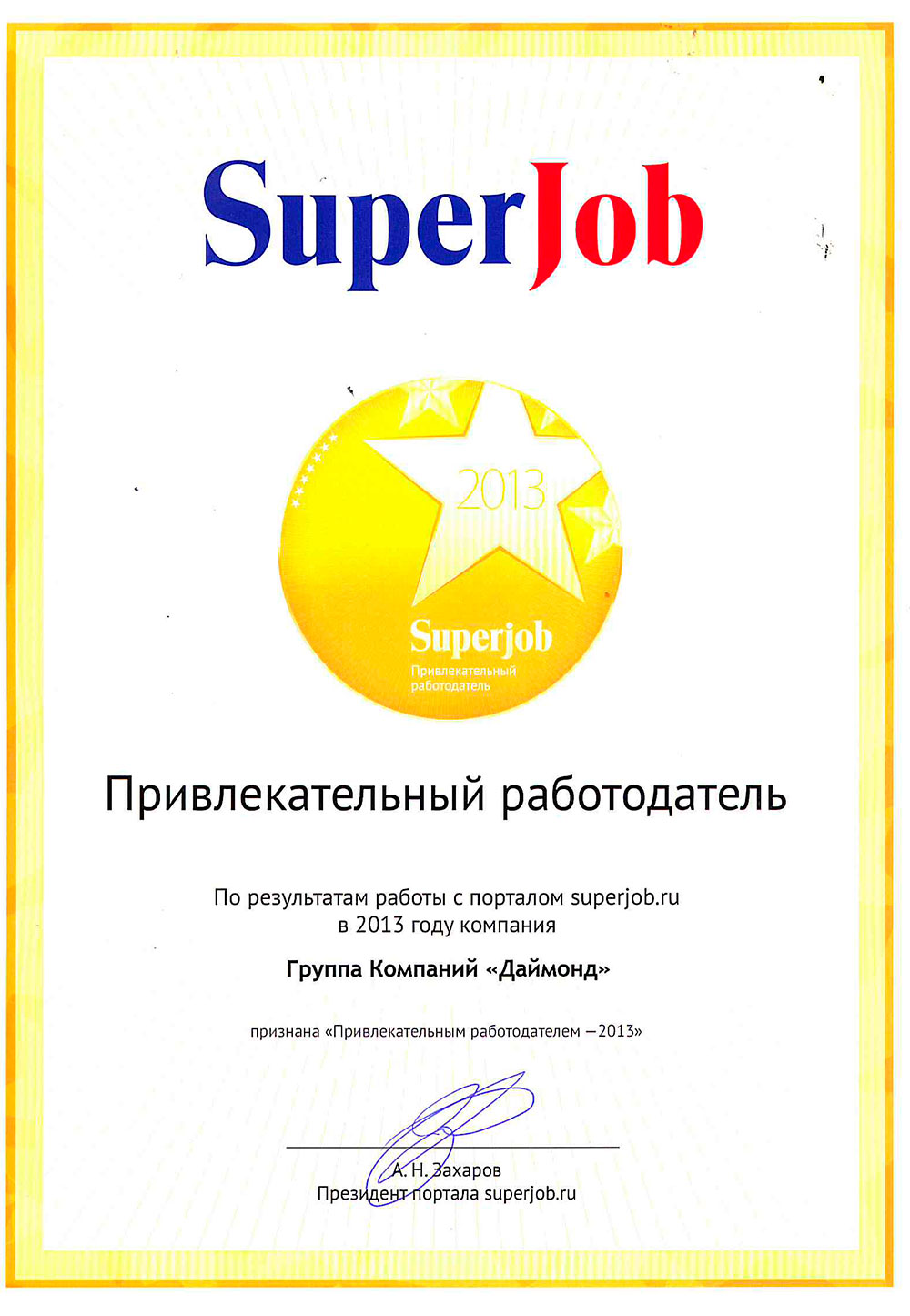 The Diamond Holding is the most attractive employer of the year 2013, according to the portal superjob.ru.
A.N.Zaharov
President of superjob.ru
Diamond Holding has again won the honorary title of "Attractive Employer of the Year." Previously, the title was granted in 2007 and 2008 and now in 2013, the company is again awarded with this title.
It is a momentous event for the management and all employees because only the best employers of the year, which meet the strict criteria, can be awarded with the title "Attractive Employer of 2013".
A large-scale study of direct employers was conducted by one of the largest recruitment portals in Europe - Superjob. The goal is to identify the most interesting companies from the point of view of applicants.
The majority of companies, more than 850,000, participated in the competition in 2013, just as in previous years, including many international brands and major alliances widely known in the country. According to the definition, "an attractive employer" is an entity, in which employment has become a cherished dream of every applicant for a whole year. And it is Diamond Holding, according to Superjob!
Diamond Holding is constantly generating new opportunities and directions for itself, creating a positive image of business in Russia. Each employee working in a company has highly professional skills and performs his duties in full, and thus Diamond Holding is not only an attractive employer, but also a reliable partner.
The success of Diamond Holding is based upon a team, which is an important component of a modern model of an effective and successful company in the field of domestic business.
Diamond Holding, having been awarded with the title of the most attractive employer in 2013, has once again confirmed that there are companies on the Russian labor market in which the work is valued with its true worth, and where staff strive to improve their competence and grow with the company.
Bringing people together, striving to reach a common goal, the company has overcome any difficulties.
Working in Diamond Holding, each individual discovers opportunities for professional growth and becomes part of a successful team. The company creates a culture of trust, which is the basis for high-quality work and good results.
Tags: Diamond holding