Graceful leap of the KASATKA vodka in a sea of alcohol market!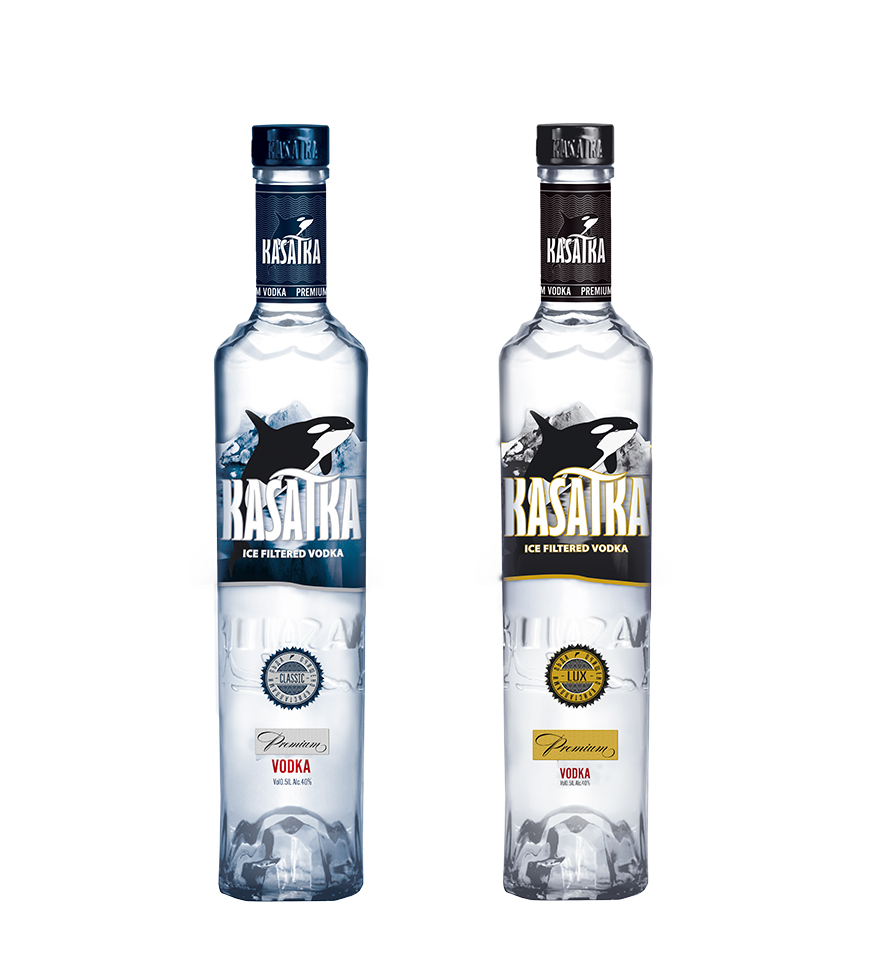 Diamond Holding a dynamic producer of alcoholic beverages, presents a new drink of premium class – the KASATKA vodka.
There is real competition among alcoholic beverages on the alcohol market and every new brand must be unique to remain on the shelf.
What is the uniqueness of the KASATKA vodka?
A killer whale can only live in clean water, therefore the cornerstone of the KASATKA vodka is the purest artesian water from the underground Karst Lake. The specially selected alcohol "Lux" is used in the manufacture, each batch of which is tested for purity by an electron chromatograph, and an innovative method of filtering with ice crystals gives the KASATKA vodka a gorgeous softness of taste. Further, effective carbon filters, the additional technology of "Silver filtration", as well as a final filtration through nanofilters are also used. LVZ "TD Medved", where the KASATKA vodka is poured, is equipped with the latest German and Italian equipment. Production is fully automated.
The uniqueness of the KASATKA vodka does not finish there. Diamond Holding has decided not to take the easy way, and has developed a bottle of a unique design, resulting in "a splinter of the iceberg" – the bottle shape gradually changes from square to round, and the shoulders and the bottom of the bottle repeat the same iceberg with their acute forms. The noble label of premium class with silver and gold lettering, on which the majestic whale is depicted, is nicely tangible in the hand because of the tactile and gloss varnishes. The original cap with the logo and the opening check indicator complement the image of a drink of premium class.
KASATKA vodka is presented in bottles of 0.5 liters in two colors. The gorgeous classic taste of the KASATKA Classic vodka, soft and perfectly balanced, is presented in a matte blue bottle. Natural sea salt, which is used in the formulation, gives to the drink sea freshness. The KASATKA LUX vodka, a refined smooth vodka for connoisseurs of special drinks, is presented in a matte black bottle. In addition to sea salt the natural extract of natural Baltic amber is used in its composition, which has many beneficial properties.
The KASATKA vodka has been on sale in federal and local networks since September 2013, and most of the regions of Russia is already familiar with it. There is an active retail development in Moscow and St. Petersburg, the Hotel, Restaurant, Café (HORECA) channels, and it is listed in the Duty-free both in Russia and abroad. Diamond Holding strives to develop the brand KASATKA in Russia and to bring it to an international level.
Feel the spirit of freedom with the KASATKA vodka!
Tags: Kasatka vodka New products