Happy Russian Day! A reason to be proud!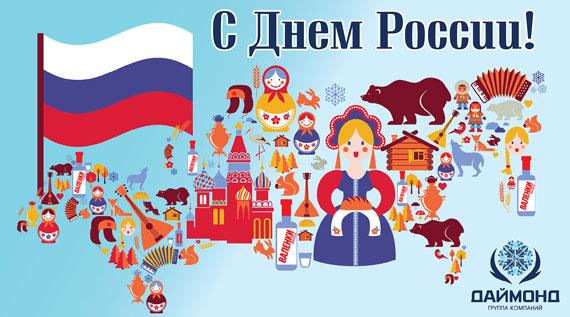 «Diamond» Holding congratulates all the Russians on this patriotic holiday!
On the 12th of June, our generous country celebrates the Russian Day. «Diamond» Holding, together with all the Russians is glad for the might and power of our country. It is also good to see how the patriotism of the nation is on the rise year after year as well as the pride of the nation. And the company would like to wish Russia further prosperity, solidarity and new victories!
«The Russian Day» - is a new holiday in the history of our Motherland. Everything started in 1992 but with another title - «The Constitution Day». As in the beginning of 90's, our country became independent and acquired its first President. Then slowly, step-by-step, this title became more and more unclear to the coming generations as none of them remembered those events. In 2002, the holiday was renamed «The Russian Day».
This holiday resonates more and more with Russians year after year, and nowadays, it is already very popular among the population as a symbol of nation unity. 
«Diamond» Holding - together building the future of our country! 
Tags: Diamond holding