Mushroom Gifts from Russian forests of the SPELO-ZRELO brand!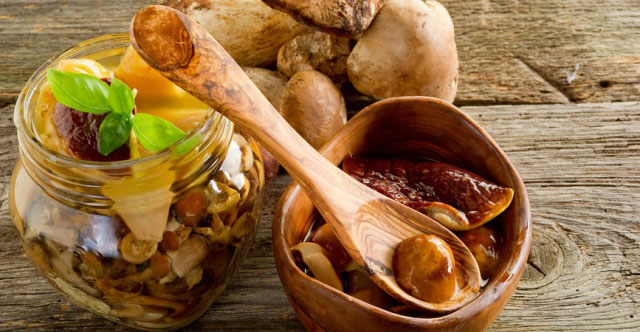 The brand SPELO-ZRELO introduces it's new product - a mushroom line "Gifts of the Russian forest." This is a series of delicious marinated mushrooms packed in elegant, attractively decorated jars. All mushrooms are exclusively raised in Russia. The range consists of 7 varieties: black milk agarics, champignons, boletus, honey fungus, oysters, mixed mushroom and (Attention!) a unique "royal mushroom" - valvariella!
The mushrooms SPELO-ZRELO are packed in glass jars that look like a stem of a mature mushroom and a bright kerchief symbolizes the mushroom cap, tied with gold ribbon. From childhood we are used to picking mushrooms in a basket, so the label on the whole mushroom series depicts a wicker basket.
The result of market research into mushrooms has shown that consumers are more confident in domestic products than those from China, and we are confident that Russian mushrooms ere the tastiest and healthiest.
Therefore, SPELO-ZRELO's "Gifts of the Russian forest" are grown and harvested in Krasnodar Region, and the traditional Russian methods of marinating we use will please even the most demanding connoisseur of Russian cuisine.
It is also important that the price of the mushroom line from SPELO-ZRELO is lower than that of its Russian competitors without compromising the quality.
Watch the presentation on "Gifts of the Russian forest" >>
The uniqueness of the line "Gifts of the Russian forest" lies in the magnificent quality/price, which cannot be provided by any Chinese or Russian manufacturers!
Let the mushroom delicacies "Gifts of the Russian forest" into your house and you'll feel a taste that forgets the hustle and bustle of the city with hearty and fragrant forest mushrooms!