VALENKI vodka has won the Gold medal for quality at Prodexpo 2014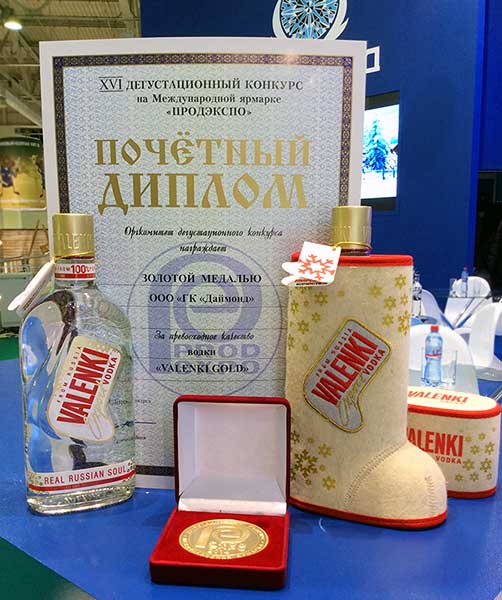 VALENKI vodka appeared in all its glory at the professional tasting committee in the competition for quality goods in February, which was held at the 21st international exhibition of food, beverages and raw materials for their production "Prodexpo 2014".
The great taste and softness, crystal clearness of the beverage, a special design, carefully selected associative elements of style and color separate undoubtedly the product from its competitors.
This was evident by the main award of the competition, which was presented to the brand owner of the Diamond Group - Gold Medal of "Prodexpo" for excellent quality of the VALENKI vodka.
There were a large number of competitors, but the demanding jury revealed the main winner by careful monitoring and testing - the best vodka was VALENKI Gold!
Only natural ingredients are used in the composition: specially selected high-quality spirit "Lux", pure artesian water from a depth of 86 meters..
The Diamond Holding will continue to maintain the product's high quality, offering the consumer only the finest alcoholic beverages, the prize-winner of this year – the VALENKI vodka is among them. 
Tags: VALENKI vodka Exhibition PRODEXPO