The Importance of Promoting Russian Brands for the Health of the Nation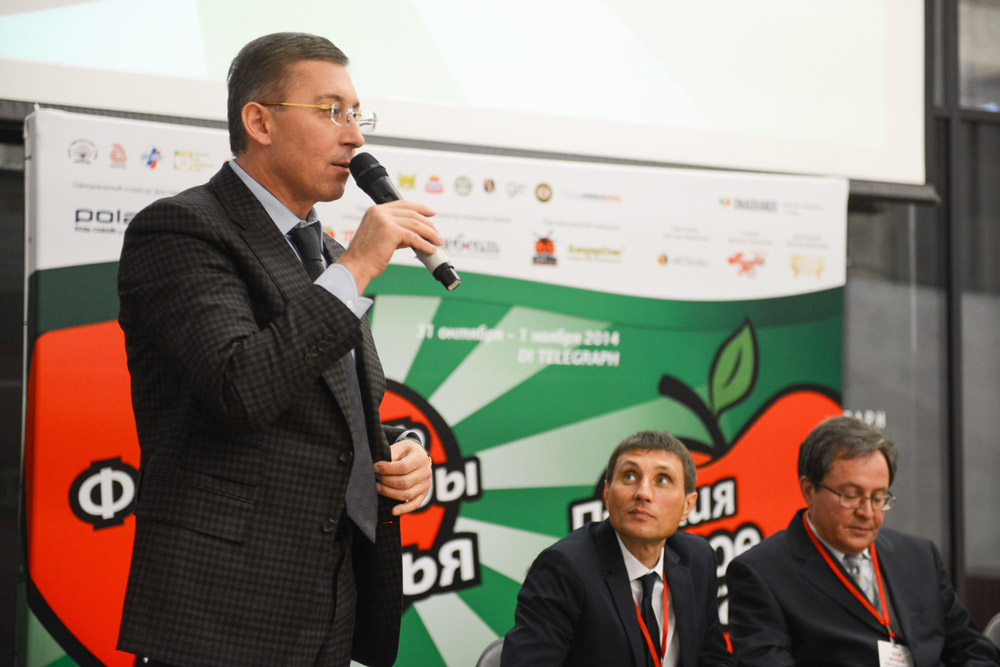 Speech by Mr. Zaur Balagov, President of Diamond Holding at the ceremony of the national "Healthy Nutrition Award" 31st October, 2014.
First of all, I would like to greet all the participants and organizers of this worthwhile event, which aims to attract society's attention to health problems, and in particular the problem of nutrition.
It is gratifying, that each year, more and more Russian companies present their technologies, products and brands at the "Healthy Nutrition Award" and make a contribution to the advancement of the population's nutrition . As a matter of fact, security of the food supply is a topical issue these days.
We all know that the most serious health problems faced by humans are: related to cardiovascular, diabetes, obesity and other terrible diseases, which appear because of a lack of proper nutrition or the consumption of poor-quality products, which are produced in suspicious TOR, have GMO, chemical additives, food dyes and stabilizers of mass production.
Thank God those times - when all the Western products were considered as the benchmark of quality and flew off the shelves rapidly– have past. products Customers have become more circumspect in their shopping behavior, largely due to greater information from the government and scientific institutions, more informed public opinion and more intense rivalry on the food market. The customer wants to know everything – where, how and from what ingredients the products are made from. Moreover, today every consumer wants to know if the products are healthy and environmentally-friendly.
In such situations, every self-respecting company will not want to supply poor quality products. And what is the guarantee of quality? The guarantee is firstly, domestic production, domestic raw materials, domestic GOST standards. Moreover, every consumer in Russia can be sure about the control of the production process. If we talk about Diamond Holding as a producer of processed fruit and vegetable products, we can say that this control begins right from the moment raw materials are raised in the fields, the seed stocks and fertilizers, then it continues with the recipes, all the stages of production, and it ends up with the packaging and being placed on the shop shelves or stored in warehouses.
Do we have such control when talking about foreign producers?
Nevertheless, when I come to the shop to buy products, I'm often surprised and even confused as to why there are so few Russian products on the shelves. Even though I know that the capabilities of our domestic agricultural sector are enormous.
For more than 2 years we have produced our SPELO ZRELO brand - delicious and wholesome preserved domestic products, with a wide spectrum: beans and corn, marinated vegetables, salads and mixed vegetables, marinated mushrooms from the Russian forests, berries mashed in sugar, jams and compotes. We only use domestic raw materials for our products, made in Russian factories, according to GOST without any chemical additives, food colouring, or stabilizers.
All the time we are developing our range and volumes of production - today we have more than 100 products and we supply different regions in Russia, Kazakhstan, Belarus, Abkhazia and others…
The main focus of our company's strategy is to develop our business through our philosophy – the philosophy of a healthy lifestyle and social responsibility. And this philosophy includes providing quality products for the whole population, initiation of proper nutrition in correct proportion to one's health. It also provides new job opportunities and stabile salaries for all employees, helps those who need it, through charitable activities and social projects. While producing, we strive to gather together all of these ideas and make them work as one philosophy.
The world changes rapidly and only new ideas and plans can survive this tempo. It is an important goal of our employees to create an emotionally attractive product, which will stand out on the shop shelves because of its original packaging, unusual recipe and quality of taste.
I am aware of that demand for our products is big enough and is growing bigger every day. And I am sure that EU sanctions have boosted our development as well as that of many other domestic companies, whose products finally appeared again on the shop shelves.
I want so much for our products to be healthy, because I'm also a consumer. And it is important to me what my children, my family, my friends eat… It is important to me what all society eats.
I'll bet you that all domestic producers, not just me, a businessman, owner of this company, must approach the quality of products in a more responsible way, because each of us, has a family which lives in this country and consumes those products.
I firmly believe that Russian brands have a future. Our domestic products will become a real household name and be loved in each home. We have a powerful country; food sovereignty and a responsible attitude to business will make it even stronger, and most importantly – healthier.
Zaur Balagov
President of Diamond Holding