VALENKI gathers speed, look for it in Duty Free now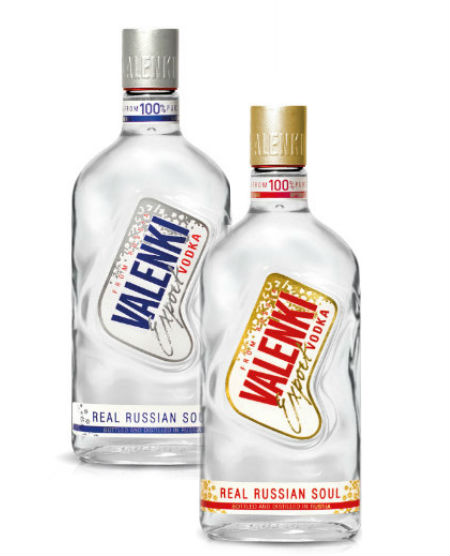 What does an air passenger do when he/she passes through customs control at the airport? Right! He/she runs in the Duty Free. Can this fact be ignored?
And the VALENKI vodka could not; and it has been found in MOSCOW DUTY FREE of Sheremetyevo Airport in Moscow since October 2013.
Now you can take native VALENKI with you on a long trip, on a bright holiday or as a gift to foreign friends. And bask away from the sweet home with the so soft and near and dear VALENKI.
The VALENKI vodka was the absolute winner of the "Industrial design of the year 2013" in the category "Form and Brand" thanks to the original design of the bottle in the shape of a melted piece of ice and a contrasting label in the form of felt boots, and the Russian naming as well.
A spelling of the vodka with Latin letters suggests that Diamond Holding, the trademark owner, does not plan to stay on the Russian market and intends to gain recognition beyond the borders of the Russian Federation. There is no doubt that VALENKI vodka will be sold rapidly, as their Russian name draws a direct analogy: where, if not in Russia, the high quality and real vodka is produced.
The bottle design complements the original cap with a volume logo, dispenser and opening check indicator. The latter is particularly important, given what "an alluring" product is contained inside.
And inside there is a high-quality, specially selected alcohol "Lux", that has passed a multi-tiered system of silver and innovative ice filtration. VALENKI vodka contains only natural ingredients. The infusion of lime flowers - VALENKI Gold, the infusion of pine nut kernels - VALENKI Silver are used in the creation. The range is presented in bottles of 0.5 liters.
VALENKI vodka is a young brand, it is only been on the alcoholic beverages market for 5 months, and is already in federal and local networks in the two "capitals" of Russia, CIS, Eastern and Western Europe. It is bottled at the "TD Medved" plant, in an ecologically clean district of Tula region, the production of which is equipped with the latest German and Italian equipment and is fully automated.
The brand is well recognized thanks to an advertising promotion. Many could see the VALENKI vodka on Channel One as a sponsor of three international football matches. In the match Northern Ireland - Russia when the tide turned against us, and the Russian team lost to opponents. In the Luxembourg - Russia, a beautiful match, when Russia won 4-0. And Azerbaijan - Russia, a 1: 1 draw, where the Russian team did not move as VALENKI.
VALENKI does not intend to dwell on it, and as a true patriot of Russian football it will continue to support the Russian football team at away matches.
Look for the VALENKI vodka on federal channels and at airports of the capital!
Tags: VALENKI vodka Events