VALENKI, hats with earflaps and stilts - winter send-off in Yakutsk at the VALENKI Party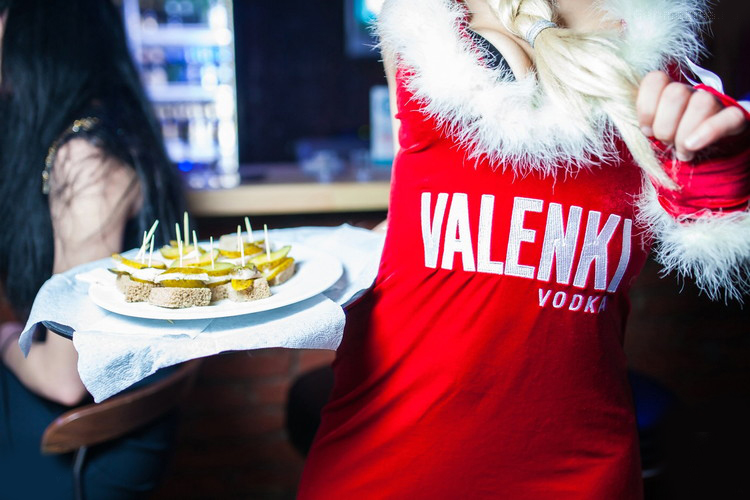 Warm hats with earflaps and cheerful felt boots, bright stilts, flavored bacon, the cool VALENKI vodka and many beautiful young people - saw the city of Yakutsk on the last weekend of winter at the VALENKI Party.
The club "Che" with the VALENKI vodka  saw off winter and met spring in short dresses, hungry for sun and warmth on Saturday, March 29. All night, sleepless residents of Yakutsk were lit up by the bright tracks of global artists, diluted with emotional and warm Russian songs. A loud "Vaaalenki- Vaaalenki, oi da ne podshity staaarenkiii ..." song was heard behind the closed doors of the club.
The most courageous participated in daring competitions of their cunning host and won gifts in the form of a souvenir felt boot with a surprise inside  - the VALENKI vodka. They tried to climb up on stilts and see all the fun from the height of the 2nd floor of the club.
In this hot night, all visitors of the club "Che" charged themselves with VALENKI so that it will suffice them until next winter. Nobody left in a sad mood, for how can you be sad when  soon you will see green grass under your feet, bright freckles on the faces of pretty strangers, solar hares on the glasses passing and a lot of warmth and confidence that the coming day will be unforgettable!
Spring comes, VALENKI makes it hot, the Russians undress ...
Tags: VALENKI Party VALENKI vodka